Skip to Main Content
It looks like you're using Internet Explorer 11 or older. This website works best with modern browsers such as the latest versions of Chrome, Firefox, Safari, and Edge. If you continue with this browser, you may see unexpected results.

About the Book . . . Sublocation: FICTION - Family & Relationships Call #: F PAT
Just Like Fate by Suzanne Young and Cat Patrick [Romance, Family & Relationships]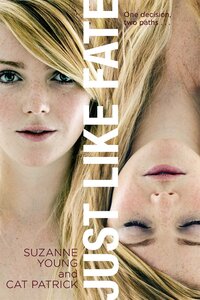 The main character, Caroline, is faced with a choice, and that choice largely deals with the overwhelm she feels in life as well as her crush, hence the tagline, "Caroline is at a crossroads."

After I set students up with that background, I explain the book's design. Chapters one and two are titled "before" and readers learn about the choice Caroline faces. Then, the subsequent chapters alternate between "stay" and "go." After readers learn about Caroline's choice, the book splits into what would happen if she could make both choices.

This First Chapter Friday book works well because students are often intrigued by the book's structure.