Skip to Main Content
It looks like you're using Internet Explorer 11 or older. This website works best with modern browsers such as the latest versions of Chrome, Firefox, Safari, and Edge. If you continue with this browser, you may see unexpected results.

About the book . . . Sublocation: FICTION - Conflicts. Call #: F GRA
Grenade by Alan Gratz [Historical Fiction, Conflicts]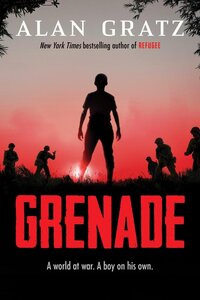 During the first chapter, the USA and Japan are at war. Young men are leaving school to become soldiers, and a lieutenant is handing them grenades.

Students are typically the same age as these characters, and they relate to the feelings shown through the deep conflicts. Finally, the last line of this first chapter is simply frightening, making this book an amazing choice for First Chapter Friday.